Freelancing last two years brought me to work on

increased quantity and variety of clients, projects, topics and design disciplines

, that challenged and ultimately improved my organisational skills. Also, I had opportunity to improve my process of delivery and

collaboration with developers

. Following, highlights from some selected recent projects. Contact me for more detailed portfolio, or take a look at some older case-studies. Click the image to zoom.
I
nternet of things, Smart Home and Artificial Intelligence projects
IoT and AI projects present a challenge for designing UX and prototyping while leaving enough space for innovation and experimenting. I was lucky to be involved in some of these projects from the early stages and had opportunity to shape the product and write requirements in order to enhance UX optimisation.
Smart home heating and CONNECTED applianceS APP
Research, MVP definition and collaboration with engineers at defining hardware and cloud functionalities based on objectives and business and user needs. Design of consumer UX and mobile app UI. Design system definition and collaboration with developers.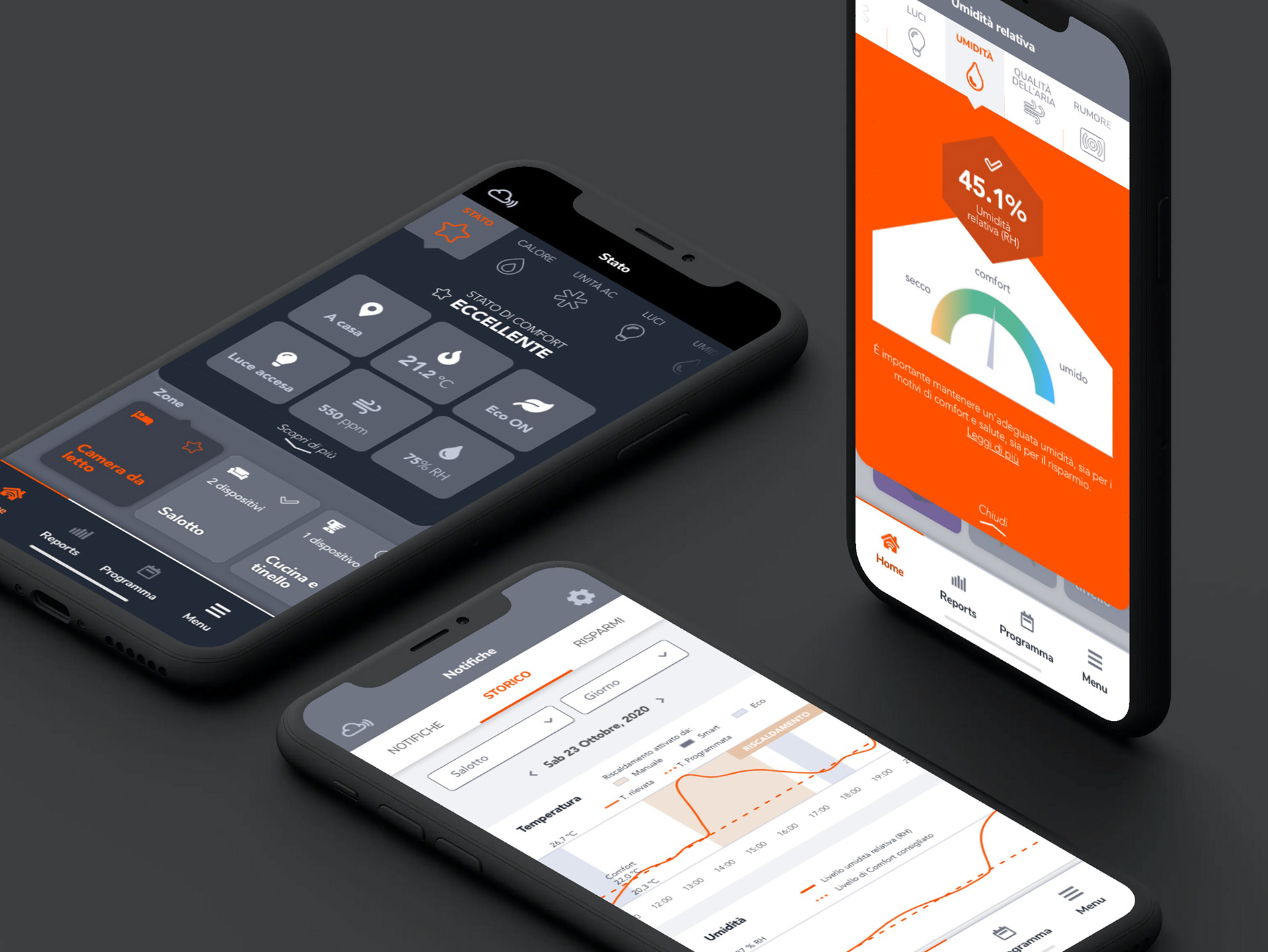 Home security and anti-intrusion sensor PRODUCT dashboard
Design of a dashboard web app. Study of target user groups. Creation of a document covering user epics, stories and tasks. Wire-framing, interactive components and design system for hardware enrolment, notifications, error monitoring.  
​​​​​​​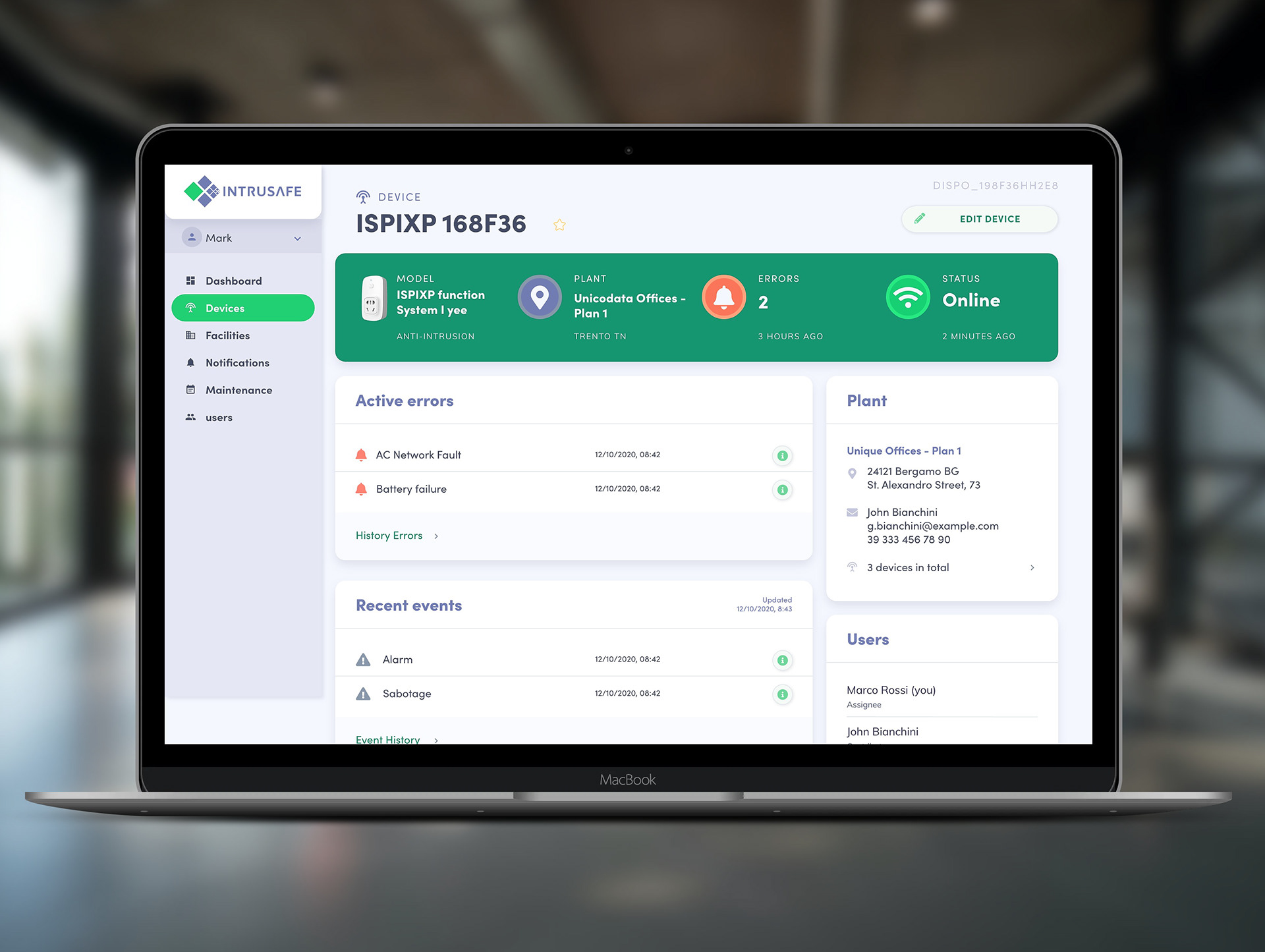 SMART HEATING CONFIGURATION SOFTWARE FOR INSTALLERS
Designed in a team with electronic hardware manufacturer, fluid mechanic engineers and software developers, from the early stage of objectives definitions until and after the launch. Worked closely with the client's strategy, marketing and sales teams.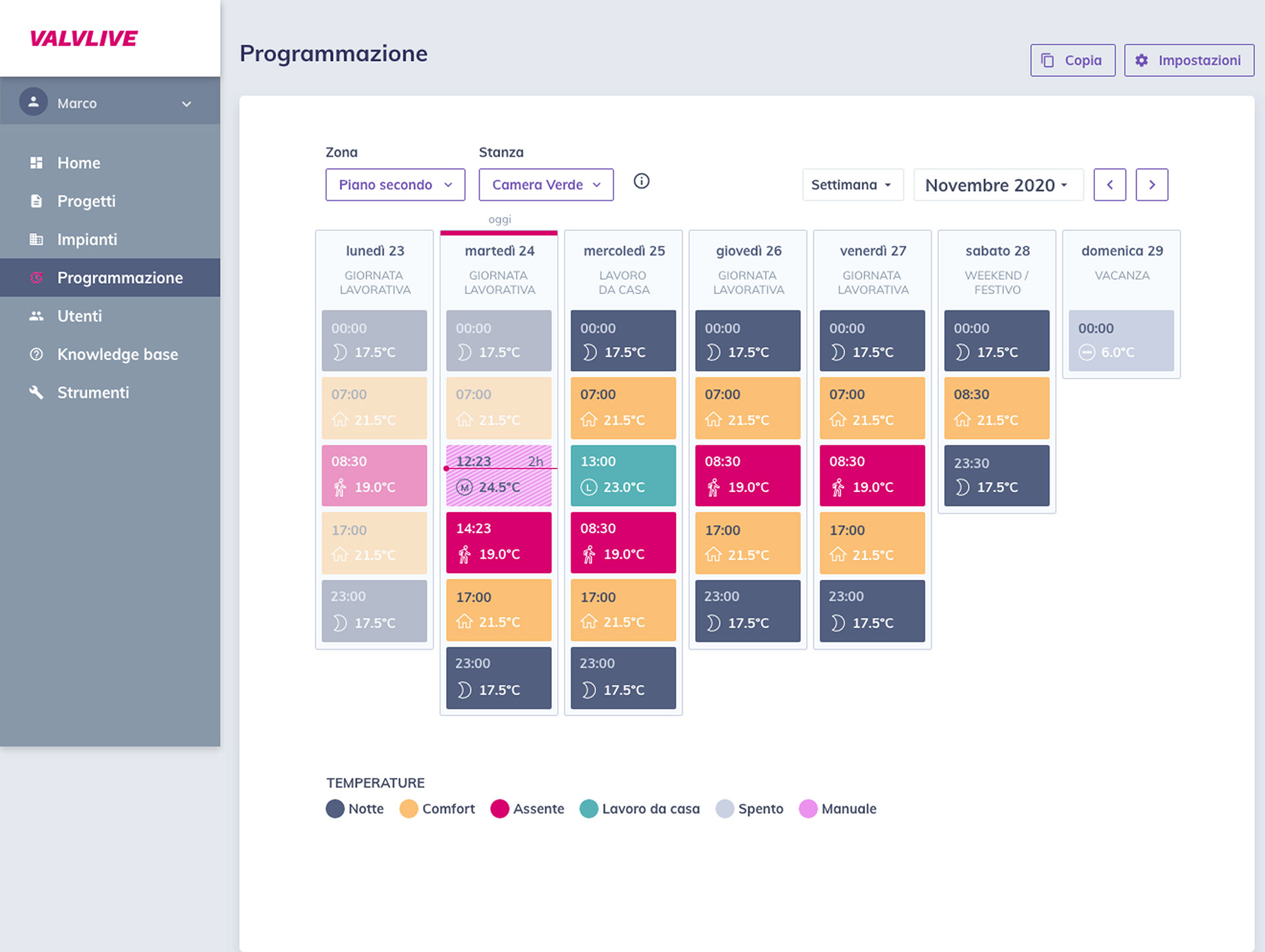 connected kitchen appliances consumer mobile apps
Designed and followed development until launch of several mobile apps for smart home appliances, like kitchen hood or cooking roner. Definition of user's experience, stories and tasks. Mobile app prototyping and design-to-development  handoff. 
​​​​​​​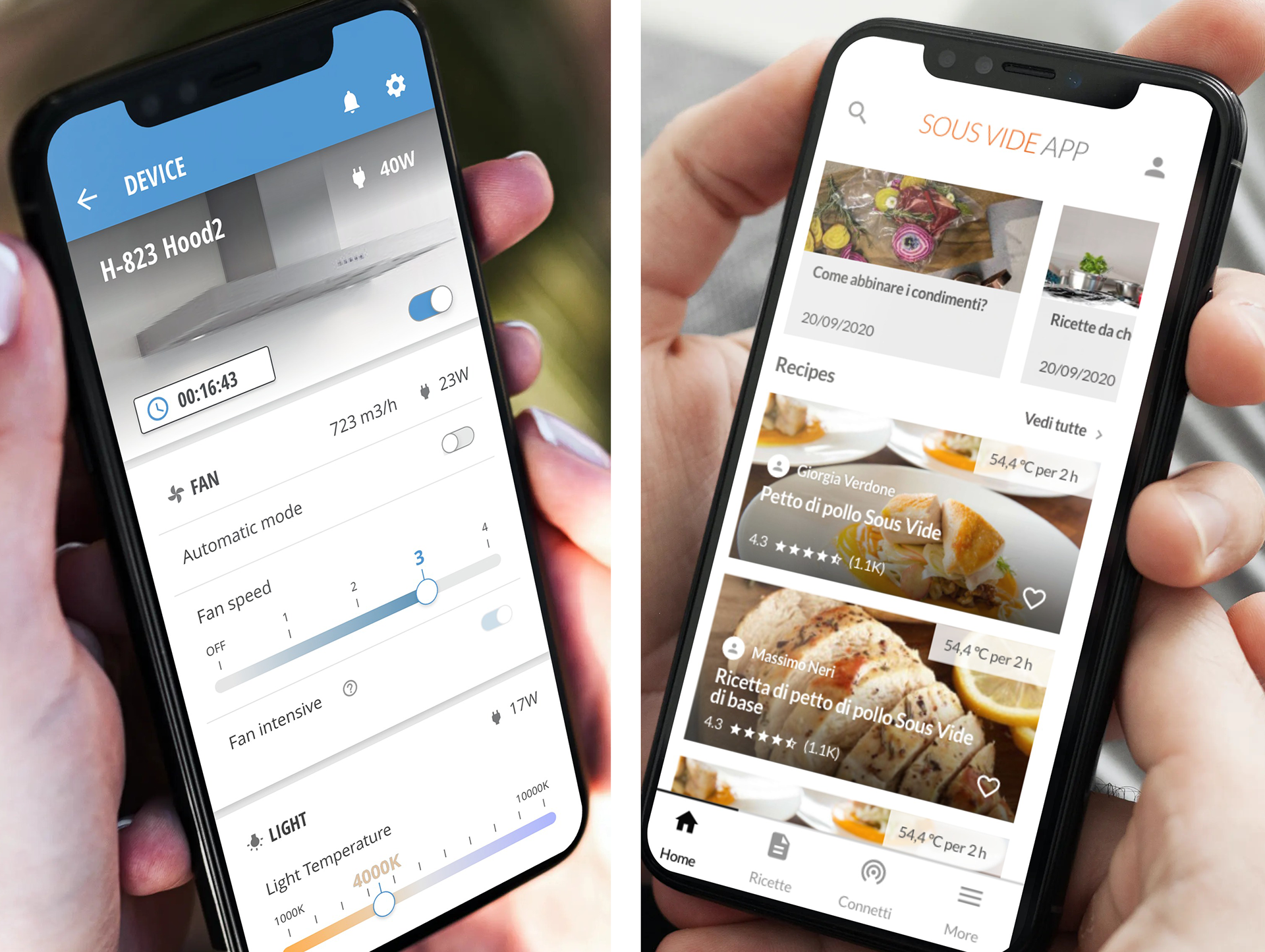 EKG SELF ASSESSMENT WEARABLE DEVICE COMPANION APP
Design for two user groups, patient and technical operator started with understanding user stories and studying technical documentation. Bending design around the functional constrains in order to reach users needs and expectations was the biggest challenge. Worked closely with developers and engineers to design within API and physical device capabilities, while also suggesting features for future development, to envision projections of product and business strategy.
Environmental, Energy Efficiency and DECISION SUPPORT SYSTEM dashboards
Working on new topics makes me learn new things, understand different groups of users and challenges my process. Designing for such specific fields like environmental impact assessment (LCA, PEF) and energy efficiency analysis required learning, documenting and understanding this type of users and their needs and objectives. Visiting a livestock farm with an interactive prototype and asking farmers to dedicate few minutes to user testing is a precious experience. 
Product environmental footprint calculator for farmers
Research and design for a web app project aiming to provide dairy sector farmers with an EDSS tool able to calculate the PEF and encourage its reduction, creating custom solutions and techniques to optimise the performance of the entire production cycle.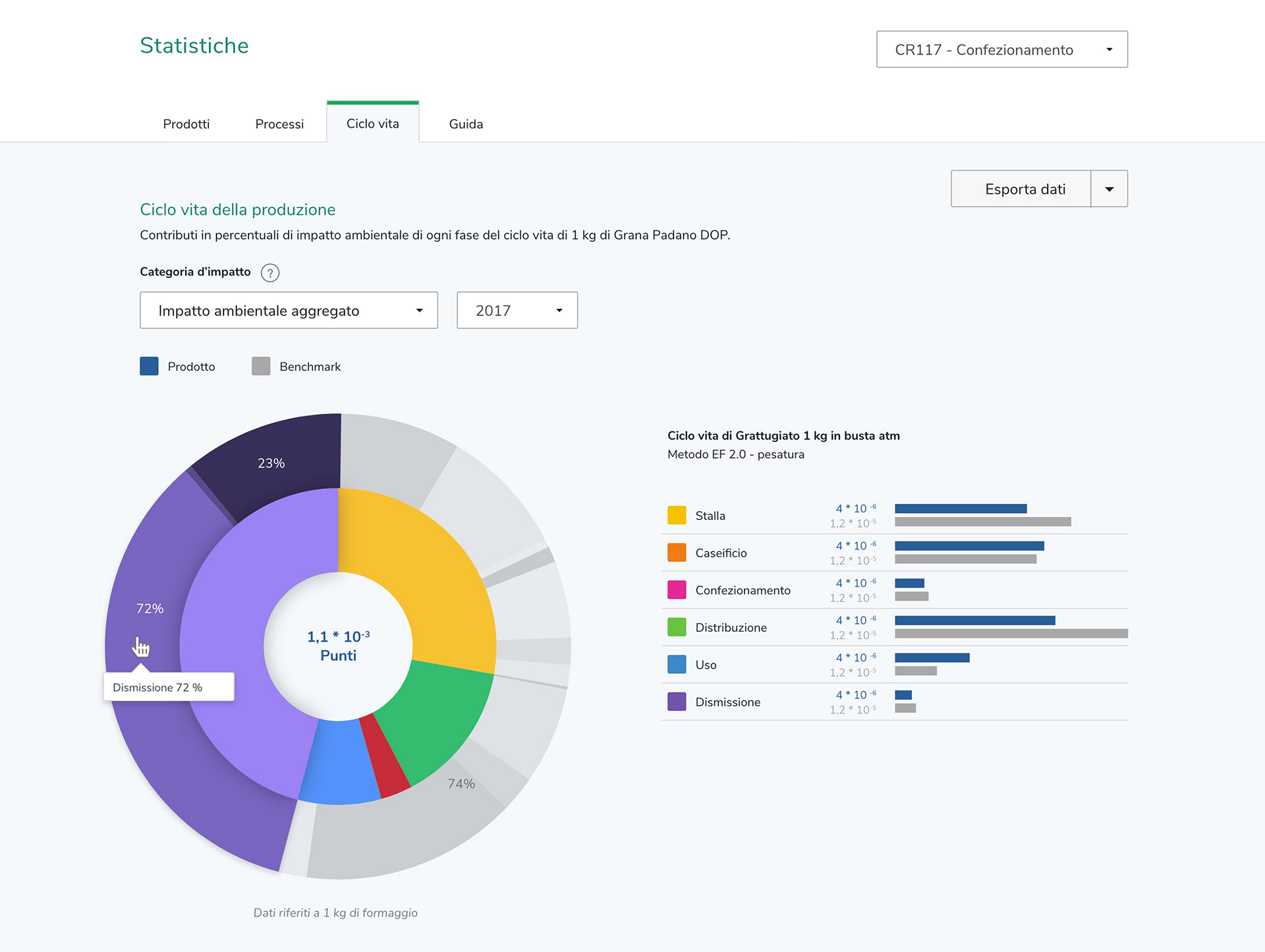 Energy efficiency DASHBOARD FOR DECISION support & DESIGN SYSTEM
Information architecture, user experience and visual design for a multi-tenant web application with purpose of monitoring, analysis and optimisation for energy saving and efficiency in different industries. Design system and collaboration with developers at all stages.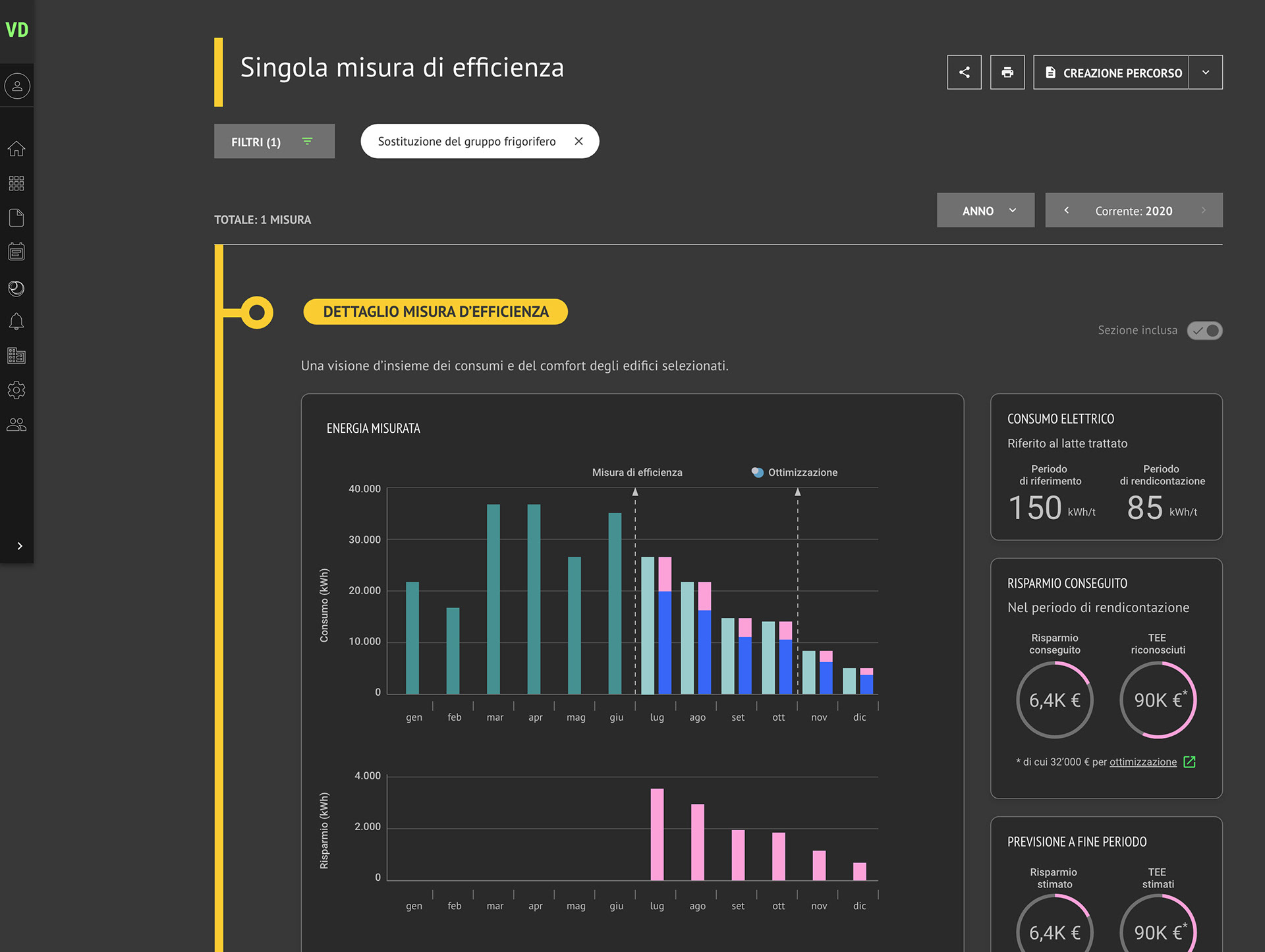 Visual design, Branding and Communication PROJECTS
Graphic, communication and branding design requires different creative process than interaction design, but human-centered approach comes handy even when designing static visual communication assets, because, well, they also speak to humans. You just do not have to worry about speaking 'computer' as well.
Gamification apps for school teaching sustainable mobility
Modular brand identity and brand architecture for Climb, a children mobility research project, created in Fondazione Bruno Kessler (FBK). Product identity, scalable design system, logo, website design, copywriting and print material.

View more
Coders festivals branding architecture and design system
Scalable logo identity and responsive website design for Italy's leading mobile tech conferences. Art direction, visual design elements, vector illustrations, logo, typography and copywriting.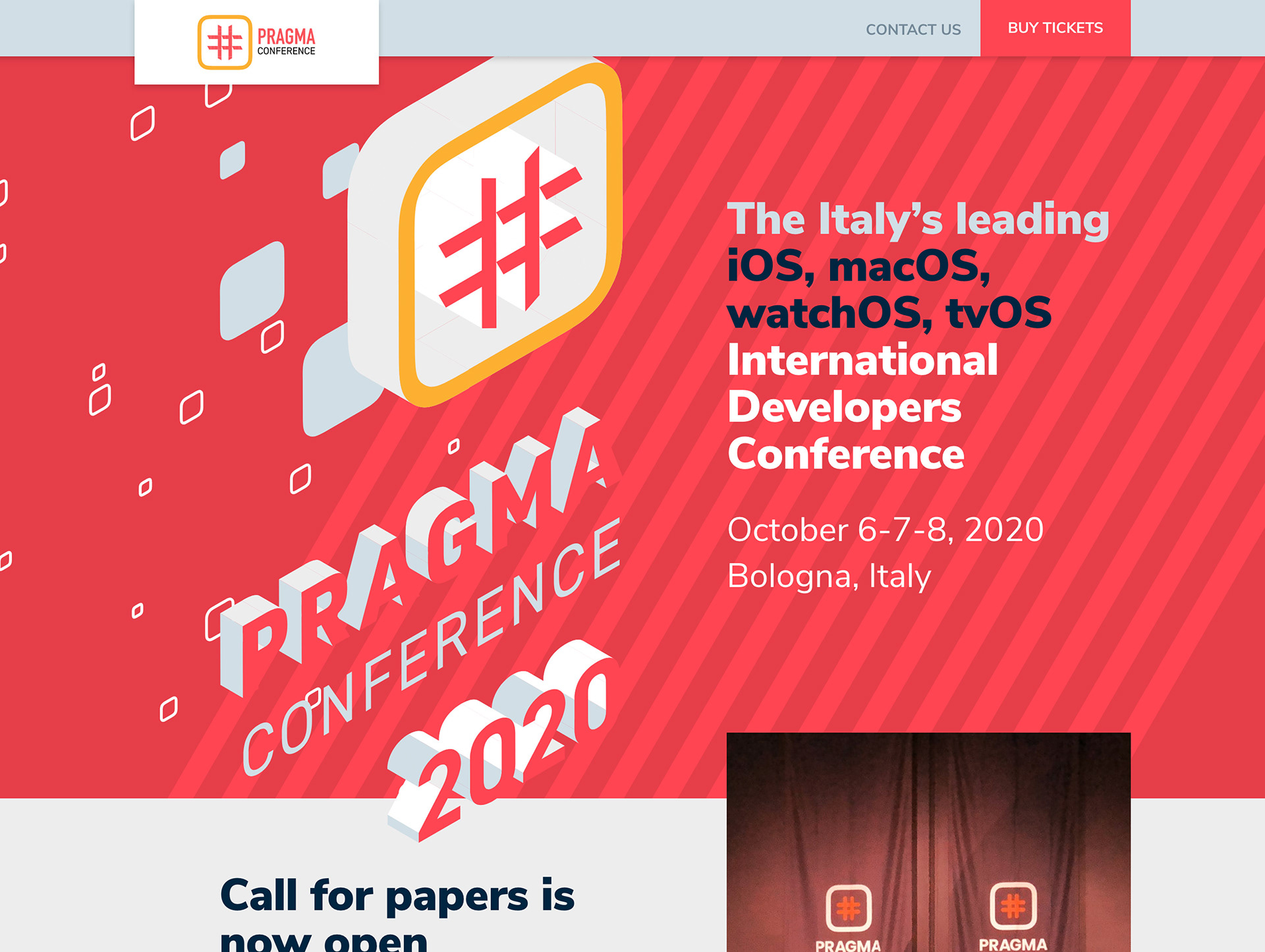 Brand identity for a Software / iot developers collective CODERMINE
Brand redesign, visual style-guide, website design for a software and app development agency. Objective was to create a new identity that the team can relate to and also to design custom badges and team logo system. Art direction of visual, copy and photo. 

View more
EU funded sustainable mobility project logo, website & print
Brand identity for a sustainable mobility project. Logo design, typography, vector illustration, visual guideline, website prototyping and brochure/catalog design. Social network communication design, exporting graphical templates for posts.

View website
StartupS, Design Thinking and innovation sprints
Shaping a product idea is always interesting. It involves lots of human interaction, working with people and translating their vision into a product. It involves teams with multi-disciplinary background and my role is often that of moderator asking lots of questions, redirecting the product definition towards defined objectives. Personally, I enjoy every activity - sprints, whiteboards, desktop and user research, feature and MVP decisions, technical problems, business goals, launching. 
Multi-service booking app for covid-19 space occupancy limits
Briefing by client: imagine a booking system of public spaces, like beaches, parks or picnic spots, with occupational limits due to corona virus emergency measures. Designed, as part of a team, a flexible and scalable web application, backend, API and front store. 
​​​​​​​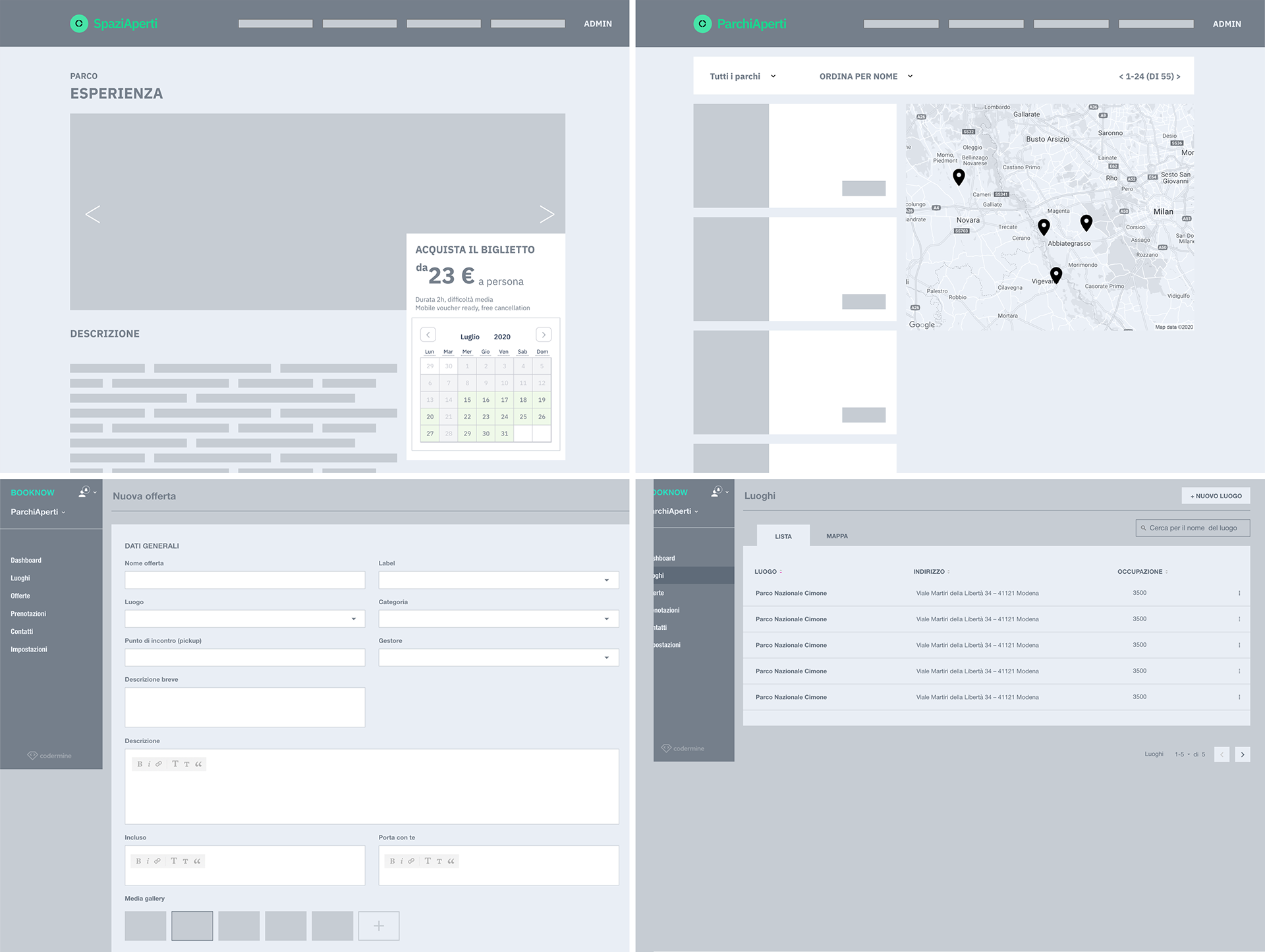 Social network for teams, DESIGN BASED ON humane tech approach
Helped a client to brainstorm, research and design their idea of a new social network app, solving some of the existing social apps problems, like isolation, fake profiles, virtuality favoured to reality, digital addiction etc. Design based on principles of humane-tech.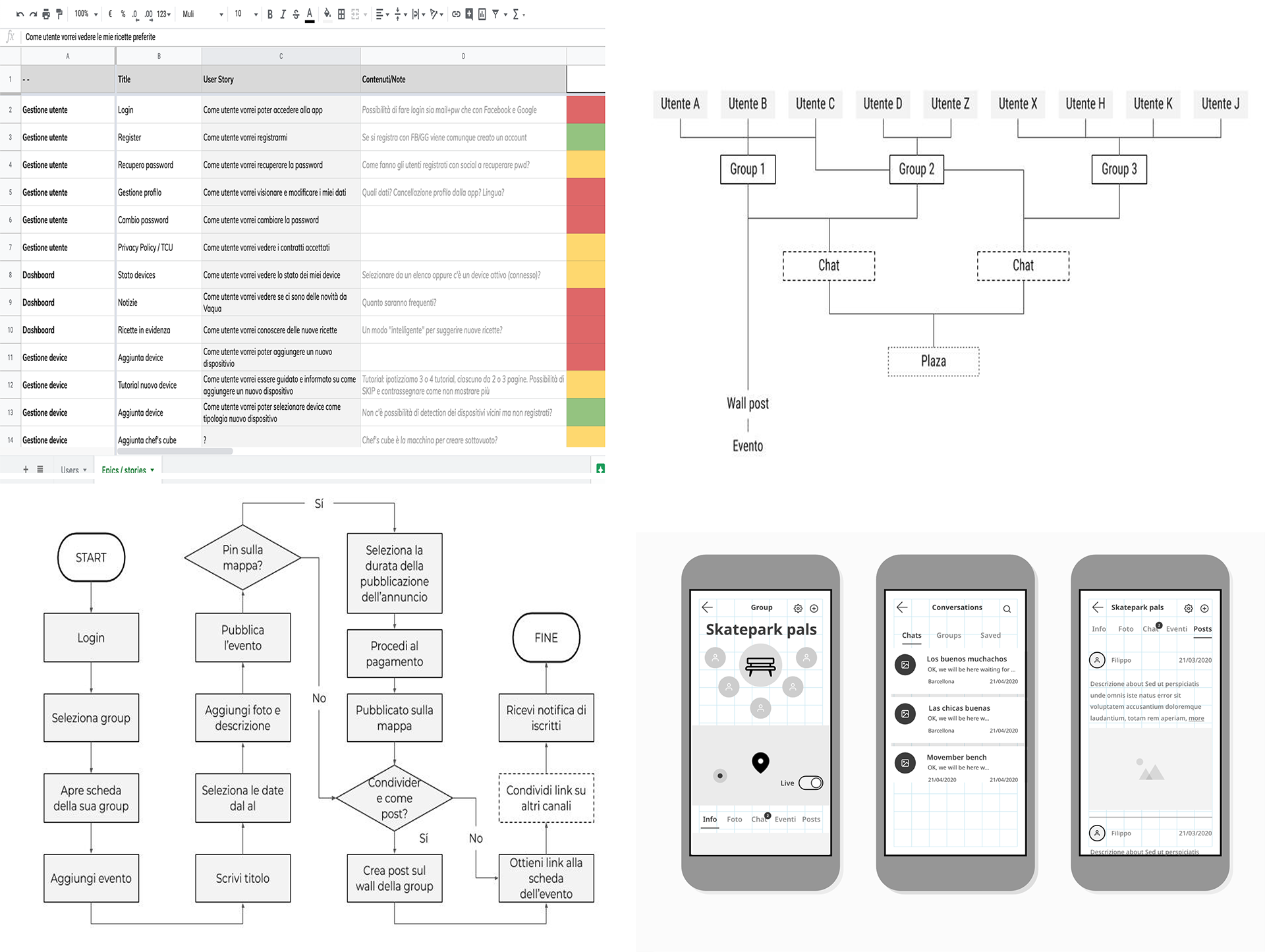 Baby monitor app & sensor based on breathing scanning
Design sprint with engineering team to research, profile the users, benchmark competitors and design a complete prototype for a

baby monitor

. From wireframes and mockup to a working prototype (physical+app); including product and branding ideas. 
​​​​​​​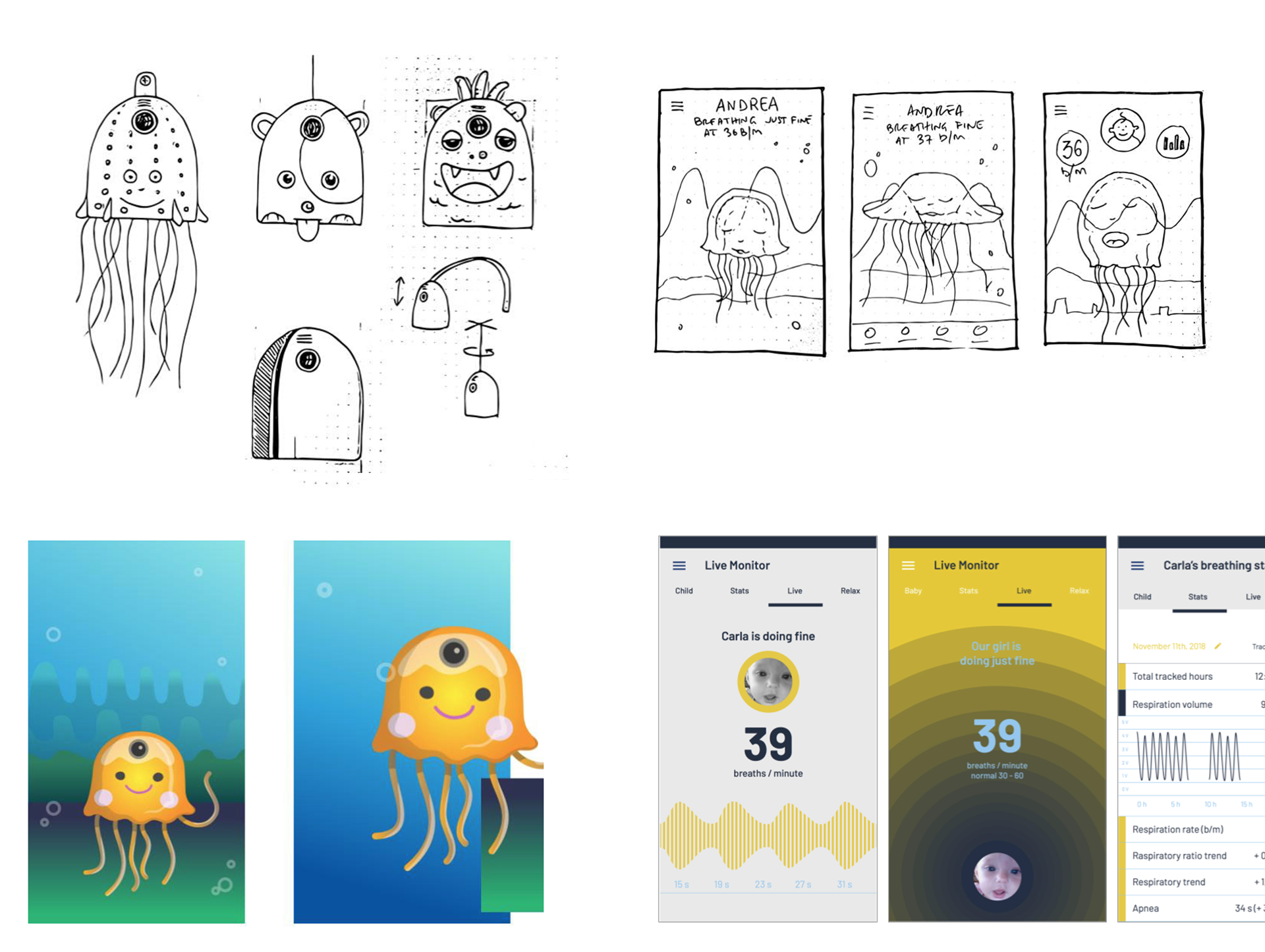 RESEARCH FOR AR/VR showcase app for real-estate AGENCIES
Helped client to research ideas and existing products for innovative approach to real-estate promotion and sales. Created a report of current market solutions, potential benefits for their specific case and pitch of some possible new ideas and products.
Design systems, collaborative prototyping and specs sharing with developers
Reducing the gap between design and code was always something that I was interested in. Understanding the nature of what computation is, helped me as a designer to make better decisions. Design and technology are fused together, so designer's work should be too. Having myself experience in coding, and being curious about how new cutting edge technologies work, enables me to work at the laying out the initial requirements with the client and to guide the conversation with the engineering team. It also helps when sharing documentation, specs and design systems with developers.